—Jason Mittell
[A longer version of this article originally appeared on the media and cultural studies blog, Antenna.]
What do we want from a finale? Should it be a spectacular episode that serves as the dramatic peak of the series? Should it be like any other episode of the series, only more so? Should it be surprising, shocking, or transformative? Or should it offer closure?
For me, the main thing that I'm looking for in any finale is for a series to be true to itself, ending in the way it needs to conclude to deliver consistency, offering the type of ending that its beginning and middle demand. That changes based on the series, obviously, but it's what makes Six Feet Under's emphasis on mortality and The Wire's portrayal of the endless cycle of urban crime and decay so effective, and why Battlestar Galactica's final act turn toward mysticism (and that goofy robot epilogue) felt like such a betrayal to many fans. And it's why finales like The Sopranos and Lost divide viewers, as the finales cater to one aspect of each series at the expense of other facets that some fans were much more invested in.
"Felina" delivered the ending that Breaking Bad needed by emphasizing closure over surprise. In many ways, it was predictable, with fans guessing many of the plot developments—read through the suggestions on Linda Holmes's site for claiming cockamamie theories and you'll see pretty much everything that happened on "Felina" listed there (alongside many more predictions that did not come to pass). For a series that often thrived on delivering "holy shit" moments of narrative spectacle, the finale was quite straightforward and direct.
The big shocks and surprises were to be found in episodes leading up to this one, especially the brilliant "Ozymandias"; since then, we've gotten the denouement to Walt's story, his last attempt to make his journey mean something. It's strange to think that an episode that concludes with a robot machine gun taking down half a dozen Nazis feels like a mellow epilogue, but emotionally it was this season's least tense and intense episode. Instead, Walt returned home a beaten-down man, lacking the emotional intensity that drove him up the criminal ladder, but driven by a plan that he had just enough energy to complete. Given that the series premise was built on the necessity of a character arc building toward finality, and that it began with that character receiving a death sentence, we always knew that closure was likely to come in the form of Walt's death, and this episode simply showed us how his final moments played out in satisfying fashion.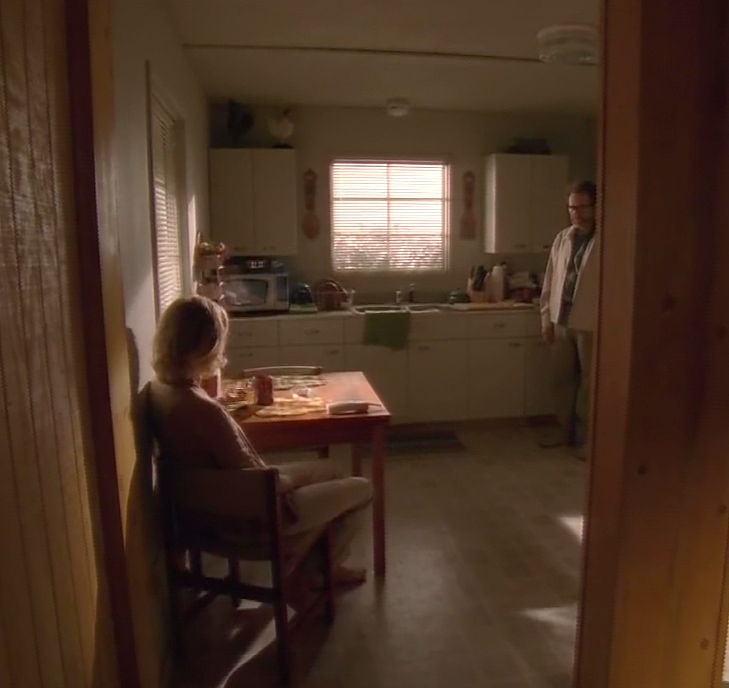 While Walt's mission to destroy the remnants of his business occupy the bulk of the episode's plot, its emotional centerpiece is his meeting with Skyler. As always, [Bryan] Cranston and Anna Gunn make the scene crackle, conveying the both the bonds and fissures between the two characters that make their final goodbye neither reconciliation nor retribution. He visits her as one of his more selfless acts we have seen. He has no illusions that he'll resolve things or get her back on his side; he simply wants to give her two things. First, the coordinates for Hank and Gomie's grave, offered to provide closure to Marie and others, as well as assuaging Walt's guilt over this one act of violence he caused but could not stop. Second, the closest he'll ever come to an apology—after starting like a typical rationalization about "the things I've done" that Skyler rightly attacks him as another deceptive rationalization about family, Walt finally admits the truth. "I did it for me. I liked it. I was good at it. And I was alive." This is not easy for Walt to say; it is his most brutal penance, having to admit his own selfishness to both his wife and himself. But in the end, Skyler returns the favor with the gift of a final moment with Holly, the child that Walt used as a bargaining chip the last time they spoke, as she remembers the part of him that still loved his children despite his abusive treatment of them. And Walt takes his own moment to observe Flynn from afar, looking at a child who rightly despises him, but he still loves. When I look back on this finale, this will be the scene I replay in my mind.
Of course the episode and series climax is the final confrontation. I fully believe that Walt intends to kill Jesse alongside the Nazis, as he fully believes that his protege has both betrayed him and stolen his formula—and based on Badger's testimony, the student has surpassed the teacher. Many fans were speculating that Walt sought to "save Jesse," but up until he sees his former partner in chained servitude, Jesse is an equal target of his wrath. Yet again, Cranston conveys Walt's emotional shifts wordlessly, as he devises a plan to spare Jesse from his robo-gun once he sees that Jesse is yet again a victim of men with larger egos and more malice than him. While this final confrontation was a satisfying moment of Walt putting the monsters that he had unleashed back in the box, it was almost entirely suspense free. I never doubted that Walt would successfully kill the Nazis and spare Jesse, that he had poisoned Lydia, and that Jesse would not pull the trigger on Walt. These were the moral necessities of a well-crafted tale; Breaking Bad was done playing games with twists and surprises, but ready to allow Walt to sacrifice himself to put down the monsters he had unleashed. Yet the scene was constructed to create suspense with the potential that Walt might not get the remote control in time, creating a rare moment of failed tension in the series—I awaited and anticipated the emotional confrontation between Walt and Jesse without ever doubting the outcome or tension about what might happen.
The "how it happened" was quite satisfying, however. I saw the robo-gun as an homage to one of my favorite Breaking Bad scenes: in "Four Days Out" when Jesse thinks Walt is building a robot to engineer their rescue. This time he does, and it works in an appropriately macabre and darkly funny payoff: the excessive gunfire mirrors Walt's frequent insistence to maximize his inventions (as with the overpowered magnets, insistence to capture every last drop of methylamine, etc.), and it keeps firing blanks as Kenny's body receives an endless massage. Although Jesse is no cold-blooded killer, killing Todd was a line he was happy to cross in payback for months of torture and Todd's own heartless killings of Drew Sharp and Andrea. However when given a chance to kill Walt, Jesse takes a pass; instead he forces Walt to admit that Jesse killing him is what he wants, and then denies him that pleasure. When Jesse sees that Walt was shot, Jesse thinks leaving him to die alone is what Walt deserves, especially given what happened with Jane.
What Walt deserves matters in Breaking Bad. I'm reminded of an important scene in the penultimate episode of The Wire, when one character wonders why another has plotted to kill him, asking what he's done to deserve it (keeping names vague if you haven't seen it). The would-be killer's reply quotes the film Unforgiven: "Deserve's got nothing to do with it." But on Breaking Bad, deserve's got everything to do with it, as it has always been a tale of morality and consequences. Jesse deserves his freedom, even though he is a broken-down shell of who he was—and while we want to know what's next for him, I'm content with the openness that allows me to imagine him driving to Alaska and becoming a carpenter, perhaps after rescuing Brock and Lydia's daughter from orphanhood.
Walt deserves to die, and we deserve to see it. The final musical cue in a series that excelled at their use was Badfinger's "Baby Blue," another classic like "Crystal Blue Persuasion" that the producers have probably been hanging onto for years. The opening line of the song is as essential as the color-specific romance: "Guess I got what I deserve." In this final glorious sequence, Walt gets to die in the lab, as the music sings a love song to chemistry—which in this context, serves as an ode to his own talents in perfecting the Baby Blue. His tour around the lab has prompted some debate as to what Walt is doing: is he strategically leaving his bloody fingerprints to claim ownership, a sort-of turf-claiming mark of Heisenberg Was Here? I think not, but rather that Walt is admiring the precision and craft of the lab, both as a testament to his own pedagogical prowess that yielded Jesse's talents, and as his natural habitat where he "felt alive," as he told Skyler earlier. To the soundtrack romanticizing Walt's own greatness, it's a final moment of pride and arrogance that he seizes to overshadow all the carnage he has caused, an acceptance that more than his family, he did it for the chemistry.
"Felina" is far from Breaking Bad's best episode, but it is the conclusion that the series and its viewers deserve. I think it will play even better both for viewers bingeing the season in quick succession and upon rewatch without the trappings of anticipation, hype, and suspense. Jesse escapes, Skyler and her family survive, and Walt and his one-time minions die. It all happens with less emotion and drama than what we've come to expect from the series, but given the strain of the journey up to this point, we're as emotionally drained as the characters. So a low-key bloodbath is an appropriate way to exit this wonderful trip.
Jason Mittell is Professor of Film & Media Culture and American Studies at Middlebury College. He is the co-editor (with Ethan Thompson) of How to Watch Television (NYU Press, 2013).