—Monica McCormick
In January, I went to the annual meeting of the Modern Language Association (MLA) for the first time. It was an illuminating and energizing few days. In my job as head of NYU's digital publishing office, a joint effort of NYU Libraries and NYU Press, I help to develop and implement strategies for engaging with scholars who produce new-model publications. For the Press, these strategies are central to our shift, now well underway, from being solely a print-book publisher to becoming a publisher of scholarship in a variety of forms and media.
So I have paid attention to the growing emphasis at MLA (as well as at academic conferences across the disciplines) in the digital humanities (DH). Notoriously tricky to define in brief, DH is a wide-ranging field that includes scholars who employ computational methods to study traditional evidence like literary texts, historical data, and cultural artifacts, and those who use humanistic methods to understand digital media and culture. This work results not only in print and digital books or journals, but also in databases, digital archives, online maps, complex visualizations, and more.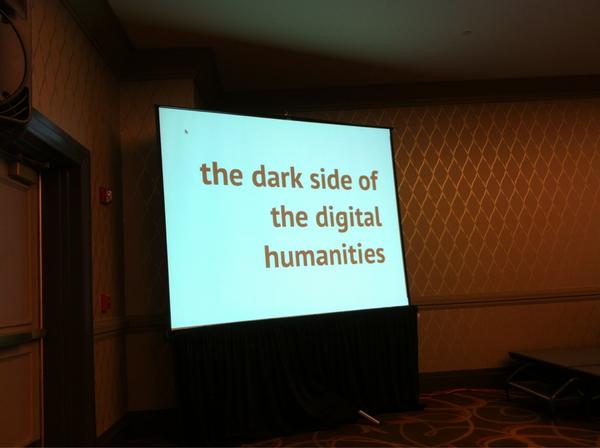 Some of the highest-profile events at MLA were focused on DH, including a presidential forum, Avenues of Access: Digital Humanities and the Future of Scholarly Communication, immediately preceded by a panel on The Dark Side of Digital Humanities that engendered considerable debate on Twitter even as it occurred. These two could be read as the ends of the continuum of arguments about DH – its potential and its risks.
During my time at the DH and scholarly communication sessions, I focused on how publishers might find new ways of engaging with such work. The takeaways: We see not only tremendous variety in publishing modes and formats (text, audio, video, games, and combinations of those) but also shared concerns about how to assess, share, cite and preserve these new publication types for future scholars. Whatever we at NYU Press build and however we distribute it, we'll have to grapple with these issues.
The panel I was on, "Beyond the PDF: Experiments in Open Access Scholarly Publishing," presented five different publishing projects that rely on technology as diverse as listservs, blogging platforms, and purpose-built software to publish scholarship. I discussed MediaCommons, the NYU-supported digital scholarly network, and our focus not only on providing access to the content but also on tools for collaboration and engagement with it. Though each panelist's projects had different emphases, we are all working on how to peer review new-model publications and how to demonstrate the quality and impact of this work so that it can be evaluated for tenure and promotion.
Another key theme was the relationship between work that appears online, then in print, and perhaps back to online, addressed in the panel Rewards and Challenges of Serial Scholarship. A generative example is Debates in Digital Humanities, edited by Matthew Gold of CUNY and published by Douglas Armato, director of the University of Minnesota Press. The two of them first met via Twitter, where they were part of the same loose network of folks discussing DH. At MLA 2011, they hatched the idea for this book, which assembles a series of essays, many of which originated as blog posts. The print book was published only a year later, in time for MLA 2012, following a peer-review process where the contributors read and commented on each other's work and the Press solicited its usual reviews. Then, at this year's MLA, they released an interactive open-access online edition. Readers' engagement with the material online is expected to lead to a new print edition in due course. Everything about this project, from its genesis online, through its editorial development and review, to the mix of publication types, strikes me as helpful for thinking through what new-model publishing requires.
As NYU Press moves forward with new-model publishing, we will look for projects that help us to learn new skills and engage with scholars and their audiences in innovative ways, as we maintain our emphasis on quality, cutting-edge scholarship. What I saw at MLA underlines my conviction that the future of scholarly publishing will not force us into binary choices (print vs. digital, paid vs. free, "traditional" vs. "experimental") but will, rather, require us to balance many possibilities.
Monica McCormick is the Program Officer for Digital Scholarly Publishing at New York University. Read an interview with Monica, from The Chronicle of Higher Education, here. You can also find her on Twitter @moncia.