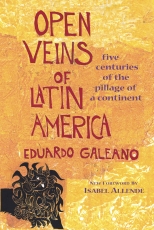 Open Veins of Latin America
Five Centuries of the Pillage of a Continent
25th Anniversary Edition
by Eduardo Galeano
Translated by Cedric Belfrage
New Introduction by Isabel Allende
Presented by Hugo Chavez to President Barack Obama at the Fifth Summit of the Americas – AP Video Here
"To publish Eduardo Galeano is to publish the enemy: the enemy of lies, indifference, above all of forgetfulness. Thanks to him our crimes will be remembered. His tenderness is devastating, his truthfulness, furious." — John Berger
"A superbly written, excellently translated, and powerfully persuasive expose which all students of Latin American and U.S. history must read." — CHOICE, American Library Association
"I cannot recommend this book highly enough. Galeano's vision is unswerving, surgical and yet immensely generous and humane." — Arundhati Roy
More on the book here. Buy it here.
Full article at Alternet.
When George W. Bush went to Latin America, Argentine soccer star Diego Maradona called him "human trash," and protesters flooded the streets.

Now, when Barack Obama visited, leftist Venezuela President Hugo Chavez wanted to shake his hand, the right-wing president of Colombia, Alvaro Uribe, asked for his autograph and the anti-imperialist book Open Veins of Latin America made an unlikely journey to the White House.

What does the April Summit of the Americas say about the past and future of U.S.-Latin American relations?

"While the United States has done much to promote peace and prosperity in the hemisphere, we have at times been disengaged, and at times we sought to dictate our terms," Obama told 34 of the hemisphere's presidents at the summit. "But I pledge to you that we seek an equal partnership … There is no senior partner and junior partner in our relations; there is simply engagement based on mutual respect and common interests and shared values."

Such intentions were perhaps most clearly represented in the now-famous handshake between Obama and Chavez. At the start of the summit, Obama strode across the room to initiate a warm greeting with Chavez — much to the chagrin of right-wing pundits and politicians in Washington.