—Ralph Young
Those of you who participated in one of the hundreds of marches that took place in the United States and around the globe this past Saturday will discover a great deal of meaningful, enlightening, and inspiring information in my books.
Dissent: The
History of an American Idea, NYU Press, 2015 is a narrative history of the United States from the standpoint of dissenters and protest movements. Dissent is central to American history. We are a product of dissent and dissent has been the force behind progressive change in America.
Dissent in America: The Voices That Shaped a Nation, Pearson/Longman, 2008, is a collection of over a hundred documents, essays, sermons, speeches, songs, poetry, polemics, of dissenters from Roger Williams to the present.
In addition to these two books, activists will also find a wealth of information and encouragement in these books:
---
Some suggested readings for dissenters that will enlighten, educate, and inspire:
Taylor Branch, Parting the Waters: America in the King Years, 1954-63, Simon and Schuster, 1988.
An excellent account of the first ten years of civil rights activism in the South.
John Chalberg, Emma Goldman: American Individualist, Pearson Longman, 2008.
Insightful biography of Goldman.
Erica Chenoweth and Maria J. Stephen, Why Civil Resistance Works: The Strategic Logic of Nonviolent Conflict, Columbia University Press, 2012.
An analysis of civil resistance.
Ta-Nehisi Coates, Between the World and Me, Spiegel & Grau, 2015.
Essays analyzing how race has shaped US history and what it has cost African Americans.
Angela Y. Davis, Freedom is a Constant Struggle: Ferguson, Palestine, and the Foundations of a Movement, Haymarket Books, 2016.
Interviews and speeches of one of the nation's most important activists.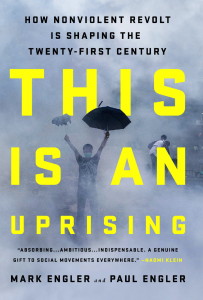 Mark and Paul Engler, This is an Uprising: How Nonviolent Revolt is Shaping the Twenty-First Century, Nation Books, 2016.
A book that discusses successful principles and strategies for protest movements.
Shulamith Firestone, The Dialectics of Sex: The Case for Feminist Revolution, Bantam, 1970.
One of the seminal books of second-wave feminism.
Tom Hayden, Rebel: A Personal History of the 1960s, Red Hen, 2003.
Hayden's autobiographical account of his activism.
David M. Kennedy, Birth Control in America: The Career of Margaret Sanger, Yale University Press, 1970.
An important narrative of the life and influence of the founder of Planned Parenthood.
Martin Luther King, Jr., Why We Can't Wait, Mentor, 1964.
King's book of essays on the civil rights movement including his most important piece of writing "Letter from a Birmingham Jail."
Gloria Steinem,  Outrageous Acts and Everyday Rebellions, Holt, Rinehart, and Winston, 1983.
Essays on feminism.
Ronald Takaki, A Different Mirror: A History of Multicultural America, Little, Brown, 1993.
Takaki traces the history and contributions of immigrants from a wide variety of ethnic backgrounds to the fabric of American life.  
Henry David Thoreau, "Walden" and "Resistance to Civil Government," 3rd ed. Edited by William Rossi, Norton, 2008.
Walden is an inspiring read especially for those interested in environmentalism, and "resistance to Civil Government" is the bible of nonviolence and civil disobedience.
Howard Zinn, A People's History of the United States, Harper & Row, 2002.
A narrative history of the United States from the standpoint of class.
Ralph Young is Professor of History at Temple University. He is the author of Dissent: The History of an American Idea (NYU Press, 2015) and the editor of Make Art Not War: Political Protest Posters from the Twentieth Century (NYU Press, 2016).
Feature image: "Don't Call Me Girl!" Women's Graphics Collective, 1975. Reprinted in Make Art Not War.
Left: Birth Control advocate Margaret Sanger (1879 – 1966) has her mouth covered in protest