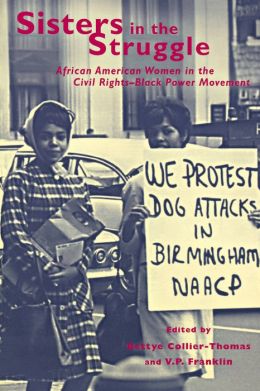 —Bettye Collier-Thomas and V.P. Franklin
The 1963 March on Washington will go down in history as one of the greatest events in the struggle for freedom, justice, and equality in history. A riveting event, which captured the attention of the world and inspired oppressed people throughout the world, its focus was civil rights and jobs for black Americans Black women were heavily involved in the movement as participants, organizational leaders, and workers. Yet, they were excluded from the official list of speakers.
As recounted by Dorothy I. Height in Sisters in the Struggle, they asked Dr. Martin Luther King, A. Philip Randolph and other male leaders, whether or not there would be a woman speaker. Finally they were referred to Bayard Rustin, the organizer of the event. Height said,
I went along with Anna Arnold Hedgeman, a woman with a long history of working for freedom and equality, to meet with Bayard Rustin. We discussed the women's participating in the March. We were amazed to hear the response, "Women are included." Rustin asserted that, "Every group has women in it, labor, church," and so on… There was an all-consuming focus on race. We women were expected to put all our energies into it. Clearly, there was a low tolerance level for anyone raising the questions about the women's participation, per se.
And, so women were shunted aside. According to Height, "To address the issue the organizers gave a number of us prominent seats on the platform." The organizers also created a "Tribute to Negro Women Fighters for Freedom" in the program where many women such as Rosa Parks, Josephine Baker, Daisy Bates, Diane Nash, Gloria Richardson, and Myrlie Evers were listed.  During the tribute women were allowed to make comments.  But – there were no official women speakers.
On November 14, 1963, at the National Council of Negro Women's Leadership Conference to assess the status of the movement and to chart the next steps, Pauli Murray, a noted scholar, educator, and activist captured the feeling of black women about their exclusion from direct participation in the March on Washington, as well as their treatment in the overall movement. Her speech was widely publicized in the black press and elicited a great deal of discussion. Murray traced the history of black women and their struggle for equality from slavery to freedom, noting the similarities and difference s in their status from that of white women. She noted that in their quest for equality, black women had been willing to overlook gender discrimination in order to gain racial equality.
This is a history that should be read by all Americans.  As we celebrate this 50th anniversary, we must never forget the central role women played in the battle for racial equality.
Bettye Collier-Thomas and V.P. Franklin are editors of Sisters in the Struggle: African American Women in the Civil Rights-Black Power Movement (NYU Press, 2001). Bettye Collier-Thomas is a Professor of History at Temple University. V. P. Franklin is Distinguished Professor of History and Education at the University of California, Riverside, and editor of the Journal of African American History.